The History of the "Volunteer Local" Campaign
Our Three Year Project to Increase Volunteerism in North King County
2012-2013: NUHSA recognized the physical distance between organizations in North King County left agency volunteer managers feeling isolated and disconnected. NUHSA hosted a series of conversations focused on connections between agencies and volunteers in North King County, raising the awareness human service agencies have of one another, and deepening our understanding of how volunteers and agencies view connections in the north end. Addressing challenges with placement and retention of volunteers became the basis of our work.
2013-2014 : Year two began a year of action on the previous year's discoveries. Utilizing the community's openness to innovation, partnerships were formed throughout North King County.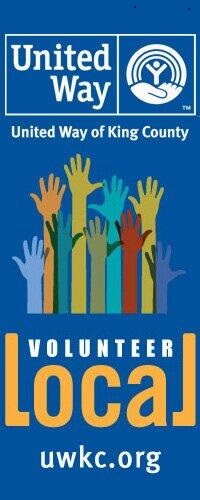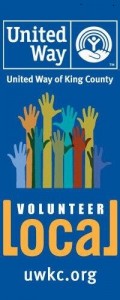 The Volunteer Local Campaign was launched in partnership with United Way of King County to raise awareness of local volunteer opportunities.
NUHSA developed a partnership with University of Washington (UW) Bothell campus co-hosting a successful Volunteer Fair. Over 100 students interacted with local nonprofits and found new volunteer opportunities
UW Bothell's Mapping Communities class worked with NUHSA to develop a customized Google map of North King County that marks the locations of human service agencies utilizing volunteers.
NUHSA's participation in the workshop, Overcoming Barriers to Employment Summit, offered individuals with disabilities the chance to learn about the benefits of volunteering as a pathway to job opportunities.
NUHSA hosted the first Volunteer Administrators Network (VAN) professional gathering in North King County. This gave local volunteer managers the opportunity to support and learn from each other in a professional setting.
2014-2015:  Building on last year's success, deeper and new community relationships were developed.
The Volunteer Local Campaign gained greater traction with a second, even more successful UW Bothell Volunteer Fair that engaged over 200 students and the participation of 27 agencies.
For the first time the campaign engaged with high school students at a Volunteer Fair at Shorecrest High School.
NUHSA continued work with Overcoming Barriers to Employment Summit, helping volunteers with disabilities improve their job search success through volunteering.
Mini VAN, an offshoot of VAN, was established. The group meets to address issues relevant to volunteer management in North King County.
NUHSA's participated in Care Day, a one day event offering services to the homeless and low-income people in North King County, a great achievement. Over 300 families received services, 60 agencies provided services, and 180 people volunteered.
NUHSA launched this new website, including a customized Google map providing information on the locations of local nonprofits. Users can also find volunteer opportunities in North King County through United Way of King County's Volunteer Solutions webpage.
We are deeply grateful to United Way of King County for their generous and continued support. Without them, much of our work would not have been possible.